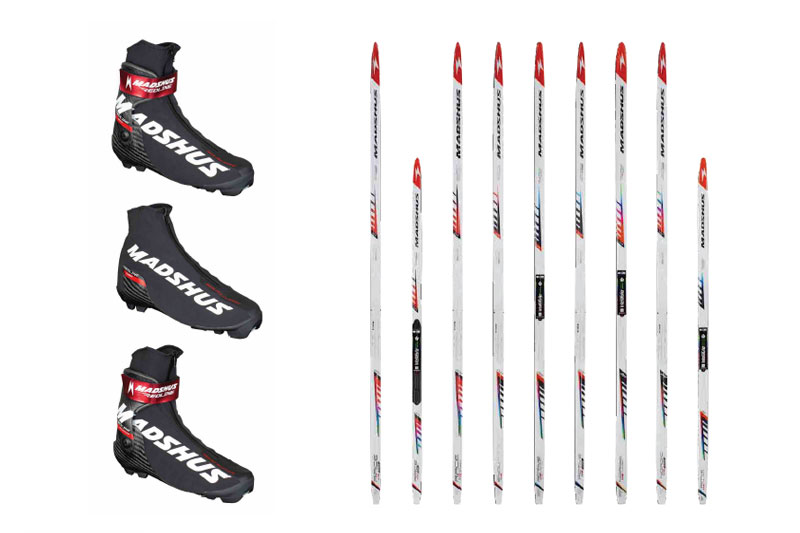 Nye produkter fra Madshus.
Madshus - Siste nytt om skiutstyr fra dem
Produktnytt
MADSHUS NEWS OVERVIEW WINTER 2019/20
Norwegian XC ski manufacturer Madshus has been busier than ever to excite with new products that make XC skiing more enjoyable through real innovation. The skis and boots of the winter 2019/20 line enable athletes to go faster, perform better and enjoy more.
MADSHUS INTELLIGRIP® SERIES – SIMPLY SKIING!
Skin skis are revolutionizing the Nordic Ski market. These easy-to-ski and easy-to-prepare classic skis feature a glued-in skin instead of a traditional wax pocket in the base. They perform so well, that the share of skin skis at Madshus, one of the major players in the XC ski market, amounts to approximately 50% of all skis sold. For this reason, the Norwegian brand has completely re-engineered their IntelliGrip® series, which is now branded as its own category. It includes ten models, five with a clear good-better-best naming system, two wider models for poorer tracks and three kids-/junior models.
RENEWED MADSHUS SKATING SERIES – FROM RACEDAY TO EVERYDAY
Madshus has completely renewed their skating ski line for winter 2019/20, also introducing an easy to understand good-better-best naming system. In addition, the line has been upgraded to match the features found in more expensive models whilst retaining their original price point range. For example, the Race Pro, Race Speed and Endurace skate skis are now featuring technologies and geometries from the 2018 World Cup proven Redline skate series. These race-tested improvements are now passed down the line to a wider price point range. The series includes eight models, of which two are Juniors' skis.
MADSHUS REDLINE 2.0 – ENGINEERED FOR WINNERS
Redline is Madshus' uncompromising, top-of-the-line series for competition athletes. For winter 2019/20, the Norwegian manufacturer has entirely redesigned this category, now calling it Redline 2.0. These skis are actually identical to the ones that are raced in World Cup comps. The 2019/20 range includes nine models:Redline 2.0 Skate (soft and regular), Redline 2.0 Classic (cold and plus), Redline 2.0 IntelliGrip®, Redline Junior (skating and classic), and Redline Propulsion (double poling cold and plus).
MADSHUS BACKCOUNTRY SERIES – SKINS FOR ULTIMATE VERSATILTY
In Scandinavia, Backcountry skiing is getting increasingly popular: leaving groomed tracks, explore wilderness, enjoy nature and silence. Madshus' 2019/20 backcountry skis all have steel edges and come with a new concept featuring the IntelliGrip® skin technology. Fjelltech includes two models with Integrated IntelliGrip® Skin that are narrow enough to be used in groomed tracks too (sidecut 54-44-49 mm and 60-50-55 mm). The Panorama series (available in three different widths M62, M55, M50) boasts the new IntelliGrip® Transition Skin technology. It's a system with a recessed skin insert, which anchors the front of the skin in place and allows for easy swapping or trimming of the skin to suit all skiers, conditions and skill levels.
MADSHUS REDLINE XC BOOTS – SETTING THE BENCHMARK (AGAIN)
Madshus' all-new 2019 Redline boot series has been engineered from the inside out to provide even more comfort, power and control, while weighing in lighter than ever! The radical design allowed Madshus to release the lightest skating boot on the market: The Redline Skate weighs in at 425 grams (in size 42) only! Featuring new carbon composite shapes to hold the foot comfortably and secure it for optimal power transmission and edge control. The range includes three models for skating, classic and skiathlon
RESTRUCTERED MADSHUS SKI RANGE – MAKING RETAILERS' LIFE EASIER
Norwegian XC ski manufacturer Madshus has spent significant energy in restructuring their ski range to make it clearer and more intuitive to understand. It is now split in five categories (Redline, IntelliGrip®, Classic, Skate and Backcountry) incorporating a new naming with an easy-to-understand good-better-best positioning. These efforts are intended to support retailers in working with Madshus.
* Langrenn Pluss (+): Ekstra godt stoff og fyldigere artikler