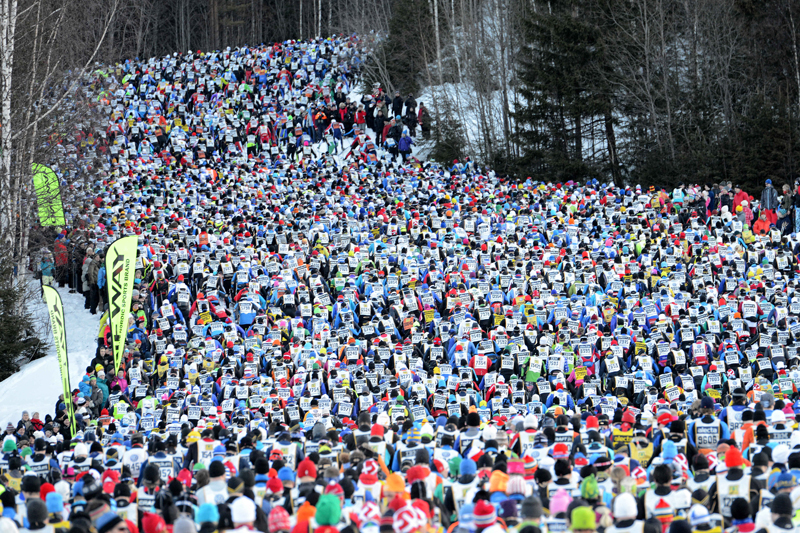 Vasaloppet. Foto: Rauschendorfer/NordicFocus.
Status foran Vasaloppet 2019: – Vi har endret løypa litt
Mildværet har utfordret arrangøren.
Vasaloppet, the world's biggest ski race that started in 1922, will once again take place on the first Sunday of March, 3rd. More than 15,000 participants are ready for their 90 km journey from Sälen to Mora in Sweden. The mass start of the race, including both the pro men and pro women, is at 8:00 am CET.
The warm weather has challenged the organizers, but the experienced team has no fears or concerns for this Sunday.
"There's water on some of the lakes," Tommy Höglund, Sport Manager of Vasaloppet, says while checking out Halvvasan on Tuesday.
"We have changed the course a bit just before Evertsberg, the halfway point. But the course is in great and fast shape at the moment. Former Vasaloppet winner Oskar Svärd managed to ski the whole course by himself in four hours and one minute. The weather should get a bit colder and let's just hope that it won't snow or rain on Sunday, which may be the case."
If it snows on Sunday, the organizers will have a new solution for keeping the tracks open. They have new forerunners who are not going to be people behind scooters as before but weights put on sledges with mounted skis.
"Besides that change, we now have fluor free waxing stations during the race and absolutely no littering except within the designated litter zones." Tommy continues.
When predicting possible winners and podium skiers, Vasaloppet always comes with surprises. Many experienced skiers such as John Kristian Dahl, Team Koteng, Stanislav Rezac, Slavia Pojistovna Team, and Jörgen Brink, JBrink Ski Team, tend to do their best race of the season in Vasaloppet. There is usually a sprint finish at the end leaving a door ajar for many dark horses such as last year's second Bob Impola, Team Serneke.
However, it is quite obvious that the winners from last year Andreas Nygaard, Team Radge Eiendom, and Lina Korsgren, Team Ramudden, are the number one favorites as they both won in Jizerska 50 three weeks ago and they are in great shape.
Nygaard will face a fierce competition from his teammates Tord Asle Gjerdalen and Oskar Kardin, Petter Eliassen, who was sick in Jizerska 50, and Ari Luusua, Team Mäenpää, 3rdin Jizerska 50, whose main goal of the season is to do well in Vasaloppet.
There are countless other potential candidates for the podium places such as Tore Bjørseth Berdal, Team Koteng, Morten Eide Pedersen, Team BN Bank, Ilya Chernousov and Alexis Jeannerod, ED System Bauer Team, Anders Aukland, Team Radge Eiendom, and even last year's third Stian Hoelgaard, Team Koteng, whose season has been very challenging so far.
In the women's race, Korsgren will have to fight against the usual suspects Britta Johansson Norgren, Lager 157 Ski Team, Katerina Smutná, ED System Bauer Team, and Astrid Øyre Slind, Team Koteng. Justyna Kowalczyk, Team Trentino Robinson Trainer, is also a force to be reckoned with, but she might be a bit worn out from her duties at the World Championships in Seefeld, Austria.
---
Visma Ski Classics er profileringspartner av Langrenn.com.
* Langrenn Pluss (+): Trening, teknikk, utstyr + +