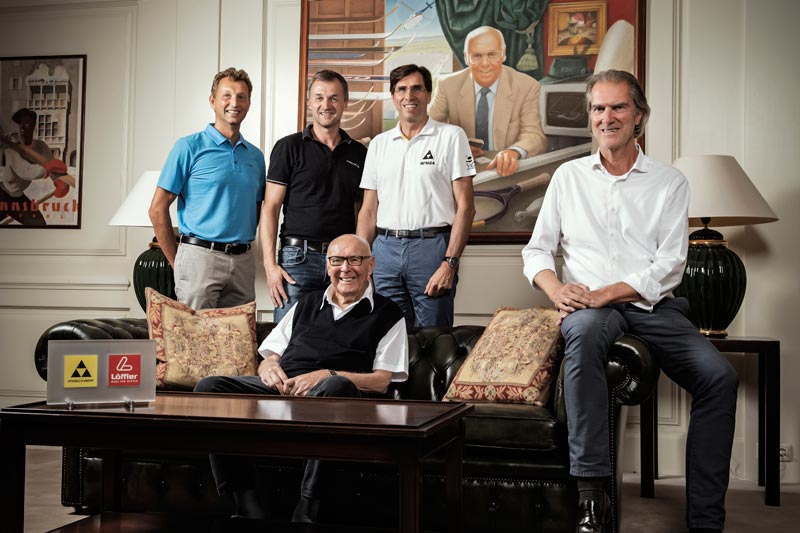 KR Josef Fischer with operational management. Sitting l-r: KR Josef Fischer, Ingo Natmessnig (chairman of the board), standing l-r: Otto Leodolter (CEO LÖFFLER), Franz Föttinger (CEO FISCHER), Bernhard Matzner (CFO FISCHER). Foto: Fischer Sports.
Skinestor fortsatt full av entusiasme – Fyller nå 90 år
– Du trenger bare å se gnisten i hans øyne når han prater om ski for å få følelsen av hvor mye pasjon han har for sporten.
KR JOSEF FISCHER CELEBRATES HIS 90TH BIRTHDAY
Kommerzialrat Josef Fischer, the last great Austrian ski manufacturer, whose company is 100% family-owned, celebrates his 90th birthday on 12 September 2019 and observes the current development of the company with satisfaction.
You only have to see the look in his eyes when he talks about skiing and you get a feeling for how much passion Josef Fischer has for the sport. The dedicated developer took over his parents' business at a young age and gradually expanded the wagon-making company into the world's most successful ski brand. Today, "Pepi" Fischer, as he is known by friends, has retired from public life and is enjoying retirement at Lake Attersee, where he has been living with his partner for many years and, considering his age, enjoys good health. Josef Fischer regularly visits the company nearby. Through his family foundation, he owns a majority stake in the holding company to which FISCHER SPORTS GMBH and LÖFFLER GMBH belong. The remaining shares are held by the private foundation of his deceased sister Selma Sturmberger.
This makes FISCHER the last of the major ski brands in Austria still owned by the founding family. Operational management lies in the hands of long-standing employees of the family business. The supervisory board, which consists of family members and experienced entrepreneurial personalities, is also based on continuity and regional values.
The key principles that have made FISCHER a successful company are described by Josef Fischer as inventiveness and a pioneering spirit. That was what motivated his father when he dared to take the leap into self-employment in 1924 manufacturing toboggans and rack wagons. "It has been precisely this pioneering spirit and the wealth of ideas among the people at FISCHER that have always been with me throughout my entire period of creativity at the company, supporting me and driving me on," says the successful entrepreneur. "For this I am grateful. It was the only way that FISCHER could grow to its present position and size. And it is the people at FISCHER who give me a positive outlook for the future."
Fortsetter nedenfor bildet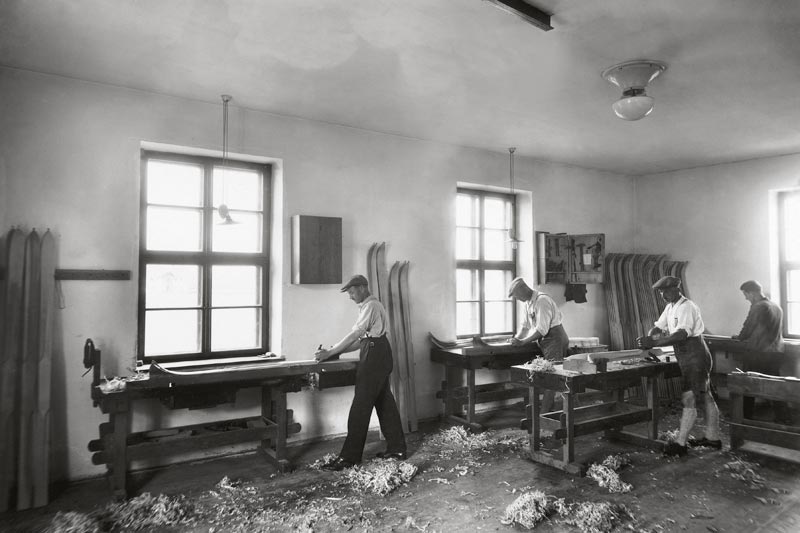 The craft of making individual skis on the planning bench. Fischer Sports.
Today, this is part of the company's DNA, firmly anchored in its mission and corporate values. The brand is clearly positioned on the market offering technology and innovation. This is also underlined by the company's latest achievements, such as unique VACUUM technology that ensures each pair of ski boots is formed to fit perfectly, and revolutionary Cold Base Bonding technology, in which the bases of high-end Nordic skis are applied without the combination of pressure and heat. Moreover, the focus in the family business is on people. Long periods of service with the company and very low employee turnover confirm the firm's positive corporate culture, resulting in FISCHER winning an award this year as the best employer in the Innviertel region.
In celebrating his birthday, Josef Fischer can look back with satisfaction on his two financially sound companies. FISCHER finished the past financial year with a turnover of EUR 182.5 million (as of 28 February). This represents an increase of 11% on the previous year. In the largest Alpine segment, FISCHER enjoys great popularity in the Central European markets. Keen growth is attributed to Alpine ski boots, where the brand is constantly gaining market share with innovative boot and fitting concepts. In cross country skiing, FISCHER is the world market leader. And meanwhile not only with skis, but also with boots and bindings. The third division in the group of companies is largely unknown, but they manufacture almost 1 million ice hockey sticks every year, more and more of them under the FISCHER brand.
Fortsetter nedenfor bildet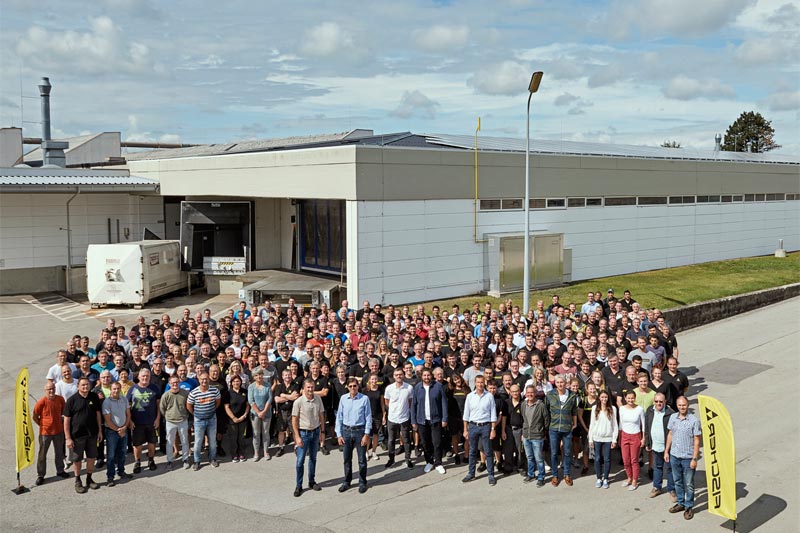 The FISCHER workforce congratulates Kommerzialrat Josef Fischer on his 90th birthday. Foto: Fischer Sports.
The LÖFFLER company was taken over by Fischer Holding in 1973, and, with around 200 employees at their Ried im Innkreis site, produces innovative clothing for endurance sport athletes. During the past financial year, the second highest turnover in the company's history was achieved with a turnover of EUR 27.4 million. In the Nordic Sports and Bike segments in particular, the company generates high turnover with impressive high-quality clothing that is sustainably produced. Every year, around 1.3 million products are manufactured responsibly and sold in the core markets of Austria, Germany, Switzerland and Italy. LÖFFLER has been the official supplier of the Austrian Ski Federation and the German Nordic Skiing Association, as well as sponsor of the Austrian professional cycling team Felbermayr Simplon Wels.
---
* Fischer er profileringspartner av Langrenn.com
* Langrenn Pluss (+): Trening, teknikk, utstyr + +