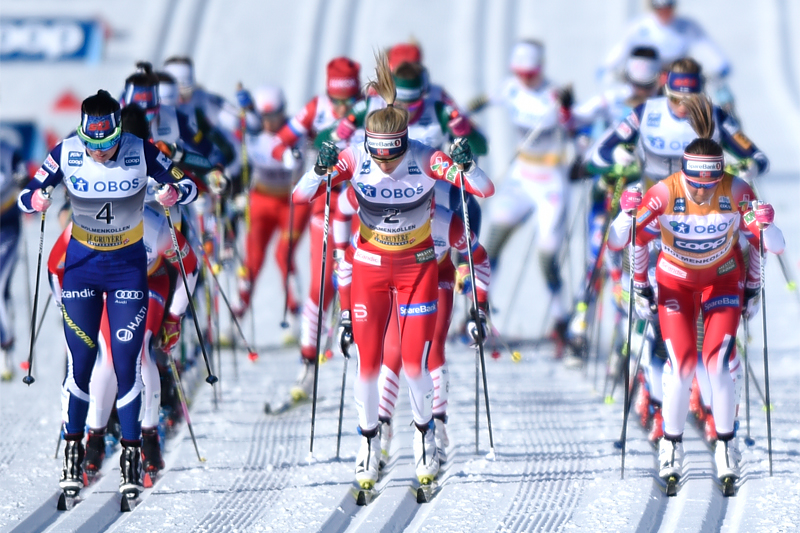 Startskuddet har gått under fellesstart i verdenscupen i Holmenkollen. Foto: Thibaut/NordicFocus.
Christer Majbäck, OL- og VM-medaljør og SKIGO-sjef: – Før vi bestemmer tidspunkt for utfasing, må vi være sikre på at muligheten for å jukse ikke finnes
Trekker paralleller til EPO-fusk
Christer Majbäck har satt spor etter seg, både som eliteløper på høyeste nivå, men også som leder av bedriften SKIGO. Han har synspunkter på fluorforbudet som det internasjonale skiforbundet, FIS, har vedtatt.
Christer Majbäck, former medallist at the World Ski Championships and Winter Olympics, has dedicated his life to skiing. Initially as a fun pastime growing up in the town of Kiruna in northern Sweden, and later as a professional skier in the Swedish national team. After the end of his active career, Christer has been operating his own company, SKIGO, where the ambition and guiding principle has been to provide recreational skiers and elite racers with good glide and grip. The requirements may vary for the different target groups, but ultimately everyone wants the same thing: a good skiing experience.
Christer now provides his views on the uncertainty surrounding a potential future ban on the use of fluorinated ski wax. "The skiing industry, just like any other industry, must follow the laws and regulations that apply in areas where our products are used. For the companies that make the products, it is important to receive an opportunity to make the necessary changes to the production process and to provide information to the stakeholders who use our products. We are currently undergoing the transition process, and have been for several years, but the time perspective must be predictable and realistic. Relevant stakeholders include all private individuals who buy ski wax and skis in the belief that they will be able to use the products for a number of years. They also include the sporting equipment stores that have significant amounts of money tied up in stocks of skis and ski wax and therefore require an opportunity to sell the old products and invest in the new ones. Furthermore, they include all ski resorts and facilities that must replace existing waxing sheds that are contaminated by fluorine, which would otherwise show up in future tests. New premises will also be required for those who make ski wax, as the fluorine-free alternatives being made will otherwise show up in testing due to the previous manufacturing that has taken place in the premises."
"For me personally, there is also another aspect that is extremely important. As a former racer at elite level, it was important for me to feel that everyone was competing on equal terms. Regardless of whether it has to do with doping or the use of prohibited technology, it is the credibility of our fantastic sport that suffers. During the 1990s, for example, there was widespread use of EPO, although it was not possible to expose such use, and for those who wanted to cheat it was an opportunity to gain a major advantage over their competitors. The risk of getting caught was minimal. The effect of using fluorine-based waxes as opposed to synthetic waxes is at least as great as the effect of the doping that was once so widespread. Before we establish a point in time for the phasing out of certain products, we must ensure that the opportunity to cheat does not exist. If it is not possible to do this through relevant and effective testing, the use of certain products will not be significantly reduced, and the consequence could be that young skiers are faced with an environment where it is necessary to cheat in order to succeed. The sport of skiing simply cannot afford such a development. We need to build up the sport's credibility, not undermine it even more."
"My suggestion to FIS and other decision-makers in relation to this issue is to take all these aspects into consideration when performing their assessment. Work on finding a method that allows for the simple measurement of the running surface of skis (both the content of the ski surface and what the ski waxes add). Be clear and transparent with the industry about how the work is progressing, and work with us to provide us with an opportunity to survive the transition. When the method is in place and the control measures have been implemented, the tests will be expensive for small event organisers, but if the measurement process begins at the major competitions, those of us who work within the industry will be able to make waxes and skis that are used at world cup and championship level. The old products will then be able to be phased out from smaller events and competitions when the new products become equally as effective as the existing ones. I believe that the innovative ability of manufacturers will be high and will also be a guiding light in the years following a phasing-out period, which will provide for a transition process that is manageable. Naturally, those who design these test methods must make allowances to ensure that we do not end up in a situation where one ingredient in ski wax is simply being replaced with another that is even more harmful to people and the climate, because in that case we will have taken a step backwards rather than forwards. We must all take responsibility for our work environment and for the climate on which we are so dependent, however, there is a risk that hasty decisions will end up being counter-productive."
"In conclusion, I wish to share my belief that, together, we can find a solution to a difficult issue. Our sport deserves predictability and fair competitions. I hope and believe that I will be part of this important transition during the next 10 years, and I would be delighted to contribute my experience and knowledge where possible. Here at SKIGO, we want to be part of a future in which we can continue to help skiers in their constant challenge to find just the right glide and grip for their skis. If you want to make an active and immediate choice not to use fluorinated waxes, we already offer good alternatives, as do the majority of manufacturers. If your key priority is to achieve the best possible glide for your skis, we also offer such solutions, and we follow the laws and regulations that apply to the use of substances in the manufacturing process."
"I hope to see you out on the ski trail for many years to come!"
Christer Majbäck
CEO and main owner of SKIGO AB
* Langrenn Pluss (+): Trening, teknikk, utstyr + +