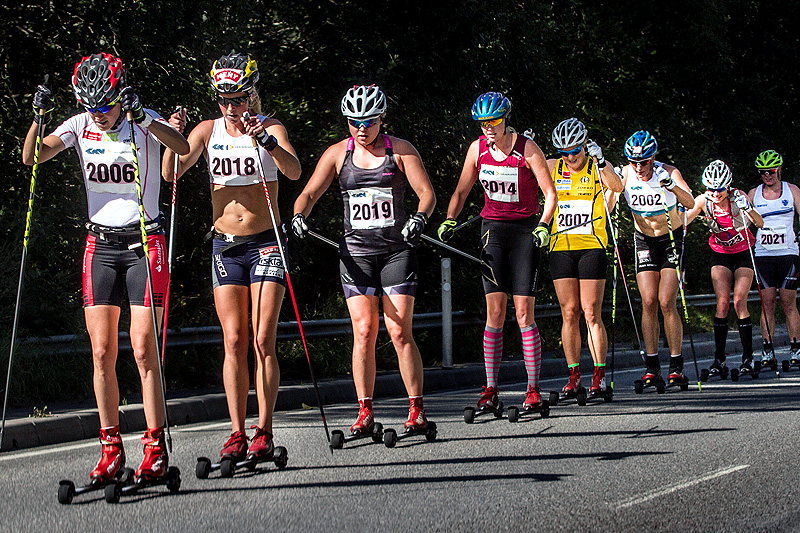 Illustrasjonsbilde. Foto: Guide World Classic Tour.
Guide World Classic Tour 2019: Nytt norsk renn inn på terminlista
Guide World Classic Tour har fått inn en ny norsk post på programmet.
Guide World Classic Tour on the road for SEASON IV!
Winter is now well installed all over the North hemisphere, but let us warm your heart with some news about summer. The warmth, the sun and Guide World Classic Tour will be back for an unprecedented edition in 2019.
The exciting news are the arrival of the world class event - Toppidrettsveka in the tour and a redesigned calendar consisting of three stages!
The series will see the number of stages be reduced to three stages. Olaf Skoglunds Minneløp and Fiemme Rollerski Cup will quit the tour and the famous Toppidrettsveka in Norway will join.
Indeed, the Italian event will unfortunately disappear after two editions. The organisers have seen the founding from the regional authorities been reduced in response of the damages caused by the storm that has ravaged the beautiful valley last October.
In an other hand, Olaf Skoglunds Minneløp will continue to exist as part of Vestmar Festival, but will not be included in the fourth edition of the series. The decision has been made to have a maximum of two races on every country and to welcome in the tour the biggest summer ski event in the world. Then, OSM will leave the place to Toppidrettsveka this season.
"We would like to thanks both Olaf Skoglunds Minneløp and Fiemme Rollerski Cup organisers for their profound involvement in the development of Guide World Classic Tour during its first year of existence. It has been a tough decision to make, but we decided to concentrate the Tour around the three world biggest summer ski events and offer to the teams and athletes a really attractive and dynamic calendar. We wish the best to both of them for the future" comments Daniel Tynell, Guide WCT CEO.
The newly arrived, Toppidrettsveka will guarantee an even bigger visibility for the pro teams and athletes and will propose a spectacular and beautiful track.
"In 15 years of existence for Toppidrettsveka, it will be the first time that we arrange a long distance race. The event will take place in spectacular scenery with the Atlantic ocean in the background in a small place located outside Trondheim, called Hitra. We are really looking forward to be part of Guide World Classic Tour and present one of the finest parts of Norway to the athletes and spectators" says Harald Fladseth, Toppidrettsveka chief and organizer.
Guide World Classic Tour has indeed been created in 2016, to develop the summer ski long distance and offer the best exposure to a seasonal sport that suffer from its seasonality. The tour aims to make a place under the sun to both long distance skiers and World Cup athletes in summer time. The new calendar of Guide WCT consisting in Blink Classics (NOR), Alliansloppet (SWE) and Toppidrettsveka (NOR) will bring the tour to another level of visibility with more than one million of TV viewer expected in 2019!
"We are really excited for this 4th edition of Guide World Classic Tour! We will have the chance to propose on every stage a mix between top World Cup athletes, Olympic and World Champions, best long distance specialists and amateur skiers. This is what make Guide World Classic Tour so special and unique compared to winter events were this mix is complicated to achieve as those athletes compete on different circuits" says Daniel Tynell.
Even if the number of stage is reduced, the total prize money to share between the athletes will remain for a total amount of 30.000 euros. The top teams and individual athletes will fight for three distinctive bibs: Champion (Yellow bib) – Youth (under 25 years-old – Pink bib) – Sprint (Green bib) and to be amongst the top 3 best Guide WCT Team. On every stage, the athlete of the Day will be rewarded for a spectacular-aggressive or sportsmanship behaviour on the road.
Guide World Classic Tour 2019 calendar:
31st of July 2019 - STAGE 1: Blink Classics - 60 km from Ålgård to Sandnes (NOR) 400 000 live TV viewers in 2018
17th of August 2019 - STAGE 2: Alliansloppet - 48 km - Trollhättan (SWE) 150 000 live TV viewers in 2018
22nd of August 2019 - FINAL STAGE: Toppidrettsveka - 44 km – Hitra (NOR) between 400 – 500 000 live Tv viewers on every events in 2018
To read more about the rules and prize money distribution it's here!
---
Guide World Classic Tour er profileringspartner av Langrenn.com.
* Langrenn Pluss (+): Trening, teknikk, utstyr + +