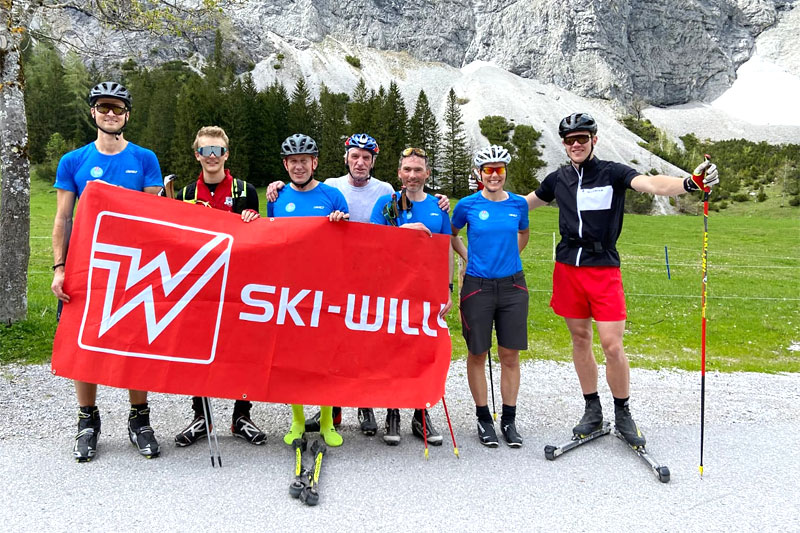 Ski-Willy Marathon Team Austria. Teamfoto.
SKI-WILLY MARATHON TEAM AUSTRIA ER DET NYE NAVNET
Ski Marathon Team Austria becomes SKI-WILLY Marathon Team Austria
The Austrian cross-country skiing team Ski Marathon Team Austria, based in Zell am See (and Ramsau am Dachstein), is officially starting under the name SKI-WILLY Marathon Team Austria with immediate effect.

Why a renaming?
For six years now, the local ski marathon team has been successfully competing in national and international competitions with a focus on long distance cross-country skiing. "SKI-WILLY has been the main sponsor right from the start and we proudly wear the logo on our racing suits. We are pleased that Ski-Willy is now also our name sponsor. The additional benefits enable us to further increase the performance potential of the team.
Our goals for the future are set high. In view of the long-standing, extremely successful collaboration with Sport- SKI-WILLY, this was the next logical step in order to jointly achieve the set sporting and economic goals and to exploit existing potential in a profitable manner for both sides," said Peter Kiene and Stefan Petritsch, team leader of SKI-WILLY Marathon Team Austria.
The owners and managing directors of the internationally active sports retailer Sport-SKI WILLY OG, based in Ramsau am Dachstein, Walter and Willi Wieser are pleased about this step: "It is a special honor for us to be the name sponsor of the Ski Marathon Team Austria, and by that a visible part of Visma Ski Classics Pro Tour. Ski Classics is the largest cross-country racing series alongside the FIS World Cup and has an enormous media coverage.
We have always supported and promoted domestic cross-country skiing and racing series such as Austria- and Euroloppet. Our commitment as the name sponsor of the extremely successful Skimarathon Team Austria now also enables us to show more than a visible presence in the core markets of cross-country skiing and to present the company Sport-Ski Willy as an expert in Nordic skiing across Europe."
Victories and podiums
The Ski Marathon Team Austria has already recorded numerous victories and podium places within the World, Euro and Austrialoppet racing series and is the only Austrian team to have Pro Team status in the VISMA Ski Classics Pro Tour. Ski Classics combines the largest and most prestigious ski marathons worldwide into a unique cross-country racing series, comparable to the Pro Tour in cycling.
In the last few years the Skimarathon Team Austria has achieved more than 100 total podiums in cross-country long distance races. In an average winter season, the team starts from the end of November to mid-April in around 30 long distance races, completes more than 3,000 kilometers of racing all over Europe, but also in America, China and Australia. In the summer months, the team members start at roller ski races, running or cycling events equal successfully than in winter.
Despite the spatial distance - training at the highest level
"Corona prevented some competitions, but our athletes have not been discouraged and continued to train hard to their limits," said Kiene. Spatial distances, professional obligations and time differences only permit joint training within the framework of training camps. That is why the athletes of the Skimarathon Team Austria train mostly individually or in small groups from May to the end of October.
During this period, the main focus is on basic endurance. In addition to long roller ski units, cycling and running training, mountain tours as well as strength and climbing units as well as various summer competitions are part of the training program. Variety and fun in training are always the most important things.
About SKI-WILLY Marathon Team Austria
The Ski Marathon Team Austria has represented Austria in international cross-country and roller-ski competitions since 2015. It is the first Austrian cross-country team to qualify as a Pro Team for the Visma Ski Classics racing series. The team consists of 25 highly motivated athletes from 6 nations between 18 and 60 years of age. The team's figureheads are Petra Tanner, the strongest Austrian long-distance cross-country skier, and the Australian national team runner Phil Bellingham.
The association offers a platform for enthusiastic athletes, especially long-distance cross-country skiers, and also organizes roller-ski races in summer and cross-country skiing races in winter. The team is on the road all year round in all well-known racing series, such as Austria-Loppet, Euroloppet, Worldloppet and Ski Classics, but also in the Austria Cup Roller Ski Summer Grand Prix, DSV Roller Ski Marathon Cup and the Roller Ski World Classic Tour. The aim is to win, podium and top positions in these competitions.
* LANGRENN PLUSS (+): Tid for å bli abonnent - Full tilgang på alle de gode sakene