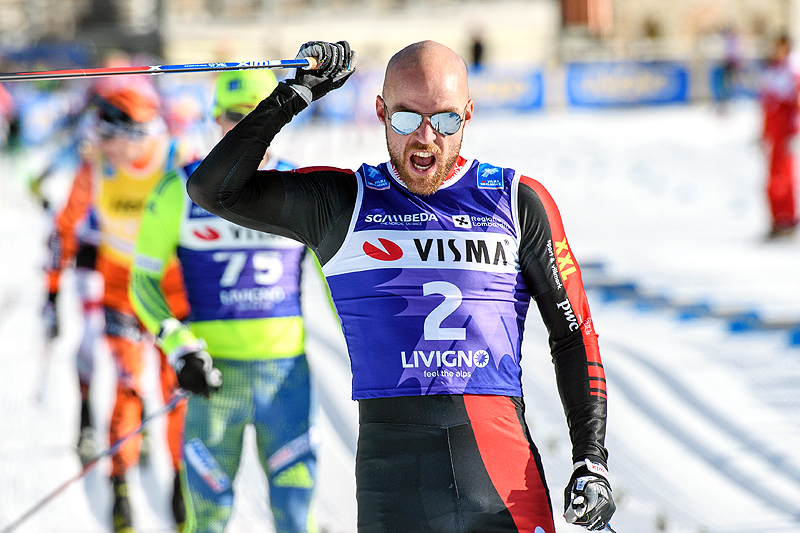 Tord Asle Gjerdalen inn til seier i La Sgambeda forrige vinter. Foto: Rauschendorfer/NordicFocus.
Status foran Sgambeda i Visma Ski Classics - Endringer i løypa
Visma Ski Classics fortsetter med Sgambeda i italienske Livigno lørdag 2. desember.
Latest updates before Sgambeda
Visma Ski Classics season VIII had a perfect start in Pontresina, Switzerland last Sunday. Next, the tour goes to Italy where Sgambeda, 35 km, in Livigno takes place on Saturday.
The original course has some changes due to snow conditions but keeps the full distance.
The first event gave us some insight on who may be in top form come this Saturday. Lager 157 Ski Team members, Oscar Persson, Fredrik Byström and Anton Karlsson were the fastest skiers, will they keep their pace coming Saturday?
The reigning Champion and last year's Sgambeda winner, Tord Asle Gjerdalen, could not really use his big engine as he had to help his teammate, Øyvind Moen Fjeld in the Pro Team Tempo. But he will be ready to rock the house again in Italy.
The Team Koteng skiers, formely known as Team United Bakeries, Stian Hoelgaard, Tore Bjørseth Berdal and Torleif Syrstad had a solid race on Sunday having individual times within the top 10, which means that they are certainly geared towards potential podium places, Hoelgaard being the number one candidate.
BN Bank's Morten Eide Pedersen and Simen Østensen performed really well on Sunday, and they will be knocking on the door to glory this weekend.
John Kristian Dahl, Team Koteng, Ilya Chernousov, Bauer Ski Team, Anders Aukland and Andreas Nygaard, both from Team Santander, did not race in Switzerland, but they all will come to Livigno and be ready to attack there.
Naturally, of these four, Nygaard is perhaps the best bet for winning the race as the race is short and most likely very fast due to snow conditions. However, Chernousov took home silver last year, which means that he shall be adamant about getting the victory trophy.
On the women's side, Britta Johansson Norgren, the reigning Queen of the sport and the winner of last year's race, showed again that the word defeat is not in her vocabulary. She will be hard to beat in Sgambeda.
But Astrid Øyre Slind, Team Koteng, looked quite strong and Kari Vikhagen Gjeitnes, Team Santander, proved that she is a capable sprinter by beating Katerina Smutná, Bauer Ski Team, and Sara Lindborg, Team Serneke in a sprint finish.
Last year's second, Smutná, however, is the most likely skier to dethrone Johansson Norgren in the upcoming high altitude race.
In the youth competition, Oskar Kardin, Team Santander, needs to watch out for Oscar Persson, Lager 157, while in the womens' race, the current youth bib holder Evelina Bångman, Team Mäenpää, should not lose any sleep over losing the race.
The sprint competition is quite open as the last year's winner Nygaard may not focus on this category as much. Lager 157 Markus Ottosson and Anton Karlsson are strong candidates if they choose to focus on this category.
On the womens side, will anyone challenge last year´s Sprint and Champion winner Britta Johansson Norgren?
In the new Climb competition, we do not have a reference point yet since it is the first year. Lucas Bauer and Astrid Øyre Slind was wearing the bib last weekend.
Bauer is certainly a true climber, but he has admitted that his shape is not great. Anders Aukland from Team Santander could be a candidate for the Lumberjack jersey.
Seraina Boner, Skigo XC team, would be a good guess collecting many points in the climbs on the women´s side.
Certainly, Team ParkettPartner surprised us on Sunday, and the team's skiers Simen Engebretsen Nordli, Magnus Vesterheim and Vinjar Skogsholm could be high up in the final result list of Sgambeda. Will anyone of them be on the podium?
Sgambeda information
Date: Dec. 2nd, 2017
Starting times: Women CET 09:25, Men CET 10:00
Active years: 28 edition (from 1990)
Distance: 35 km
Record number of participants: 1329
Number of sprints/climbing points: 1 sprint, 1 climb
Website: www.lasgambeda.it
* Langrenn Pluss (+): Ekstra godt stoff og fyldigere artikler