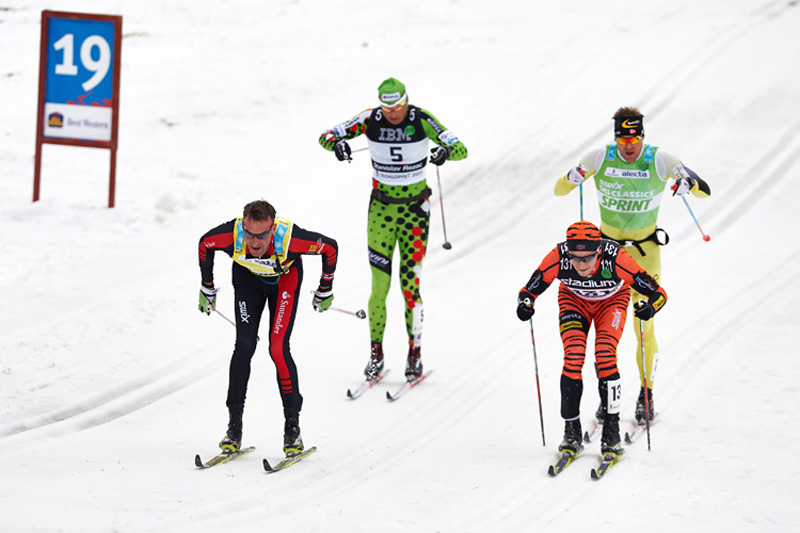 Illustrasjonsbilde. Foto: Felgenhauer/NordicFocus.
Visma Ski Classics 2018/2019 - De heteste ryktene og overgangene: – Er en konge på vei tilbake?
Silly season er i gang i langløpssirkuset. Her er siste nytt.
The snow has melted and silly season has started, here are some of the silly season rumors and news from the Pro Teams.
The Visma Ski Classics season ended in April and after some weeks of vacation many pro teams have just started up their training for next winter.
Several pro teams have the Guide World Classics Tour, with four long distance rollerski events, as the big goal for the summer.
But for most of all the time from now until November is about preparing for the winter.
The pro teams have until September 30th to present their roster. But already now we can se some changes among the teams.
Here is a quick look at the status for the best pro teams.
1) Team Ragde Eiendom. Right before the last event in Visma Ski Classics, Team Santander presented their new title sponsor -- the Norwegian real estate company Ragde Eiendom. The winners of the team competition for the last four years have also recruited Joar Thele, who was in a long break away in the Vasaloppet this winter. Five years ago, Thele was part of Team Xtra Personell, consequently he knows the Aukland brothers. Thele is also a strong rower and runner. Last week he won the uphill race Grefsenkollen Opp.
2) Lager 157 Ski Team. Not since the start of team we have seen so many changes in the squad as now. Fredrik Byström retired and the duo Jimmie Johnsson and Oscar Persson are no longer on the team. Instead they have recruited Elin Mohlin, Emil Persson and Andreas Holmberg. Interestingly, Holmberg had one more year left on his contract for Team Serneke. Maybe he got an irresistible offer from the Swedish team based in Ulricehamn?
3) Team Koteng. Since 2013, Team Koteng (formerly Team Skigo and Team United Bakeries) has been part of Visma Ski Classics. Since Johan Kjølstad retired before last season and John Kristian suffered with heart problems during the winter, Team Koteng had to rely on Stian Hoelgaard och Astrid Øyre Slind, both top five in the overall standings. The team won the team competition in 2014. They don't want to be in third place again, so keep on eye on them when they present their team. A good guess is that Chris Jespersen is back for a full Visma Ski Classics season after helping Petter Northug in his private team for a year.
4) Bauer Ski Team. After a successful winter, we all wonder how former Olympic medallist Lukas Bauer will develop his team for the next season. In a comment to Visma Ski Classics, he says: "It's too early for me to give any information regarding the team. I'm in the budget process right now, so not any 100 percent sure news from my side regarding team members and so on."
5) Team Serneke. Sara Lindborg (4th overall) has retired and Andreas Holmberg (2nd in Kaiser Maximilian Lauf) has transferred to Lager 157 Ski Team. Will it be possible for Martin Holmstrand's team to be in top 5 again next season? The rumors say that they have negotiated with Lina Korsgren and some young talented Swedish girls
Some voices about Engadin Skimarathon being part of the tour:
Engadin Skimarathon will be a new addition to Visma Ski Classics, during the weekend inbetween Vasaloppet and Birkebeinerrennet. This is what four of the athletes say about that:
Øystein "Pølsa" Pettersen:
"I welcome skating, and I welcome Engadin. It is good for the series that we have different races and different types of qualities that is needed to be the best. The timing of the race is not perfect of course. But better to be tired and famous, than fit and forgotten."
Astrid Øyre Slind:
"We should have more than one skate race. What about doing the skate edition of Cortina-Toblach or La Sgambeda? There is a lot work needed for training and building up a good enough park of skate skies. It would be fun to use it more than once per season."
Anton Karlsson:
"I think it's good for the audience with something different! Maybe some strong traditional skiers will join. But not so good for the athletes and teams. One week after Vasaloppet. At altitude in the most expensive valley of Europe. Also, last time I did any type of skating in high intensity was in January 2017. So I might not be super exited about this race."
Seraina Boner:
"I am of course excited to have Engdin Skimarathon in Visma Ski Classics. I have done the Vasa-Engadin-Birken tripple several times and been in quite good shape at Birken and the races after it."
In case you missed it...
Finish pro skier Mattias Strandvall is done in the world cup circuit. Now he wants to put together anew Finnish Pro Team
Ten athletes are allowed per team. We will see more additions to the teams during the summer and early autumn.
All teams need to have both genders in the Pro Teams from now on.
Youth points are not counted as high next season as this. only 50% extra last season it was 100%. how will that affect the rosters?
PS We hear rumours in the air that one of the legends is returning to the tour, being a Norweigan, but some voices say it might be for a Swedish Pro Team... the rumors have already made the legs of the other top Pro Team skiers start to shake...
---
Visma Ski Classics er profileringspartner av Langrenn.com.
* Langrenn Pluss (+): Ekstra godt stoff og fyldigere artikler